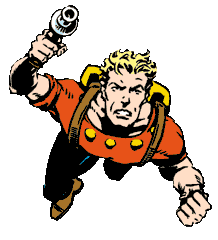 Flash Gordon remains one of the most recognizable names in science fiction, but the SF adventure character's fame rests ultimately on just ten years of newspaper comic strips by the extraordinary artist Alex Raymond (1909-1956). When the Buck Rogers comic strip became a sudden success, William Randolph Hearst and his mighty King Features Syndicate decided they needed a competing science fiction feature. They invited auditions, and the winner was a young artist who had assisted Chic Young on Blondie and then found fame drawing Dashiell Hammett's strip, Secret Agent X-9. Alex Raymond's Flash Gordon debuted January 7, 1934.

In the first continuity, Raymond and writer Don Moore began the epic battle between evil Emperor Ming of Mongo, who dreamed of conquering the galaxy, and the forces of Earth led by the heroic Flash Gordon, the beautiful Dale Arden, and the scientific genius Dr. Hans Zarkov. Raymond's work on the strip, influenced by the best American illustrators such as Howard Pyle and N. C. Wyeth, was instantly appealing, and the strip was a hit. Within a few years, Raymond transcended his own early work with innovative strips that expanded the boundaries of comic art, exploring different panel configurations and new ways to depict action, movement and sequence. Raymond also created spectacular, romantic SF imagery of exotic cities, strange races, interstellar battles, and beautiful princesses, such as Ming's sensuous daughter, Aura. Raymond continually worked to improve his art, drawing from models and developing incomparable mastery of dry and wet brush techniques. Raymond left Flash Gordon to join the Marine Corps in 1944, where he became an inspiring patriotic artist, and the strip was turned over to his assistant Austin Briggs, who had been drawing the daily strip since its begining in 1940. When Raymond returned after the war he was locked out of continuing Flash because of King Feature's contract with Briggs. Not wanting to lose Raymond to a rival syndicate, King gave him the opportunity to create his own, new strip, Rip Kirby, with the stipulation that if it failed he could return to Flash. Briggs was succeeded on Flash by Mac Raboy from 1948-1967, one of the few strip artists who had also worked in comic books, most famously on Fawcett's Capt. Marvel, Jr. His Sundays have been collected by Dark Horse Comics.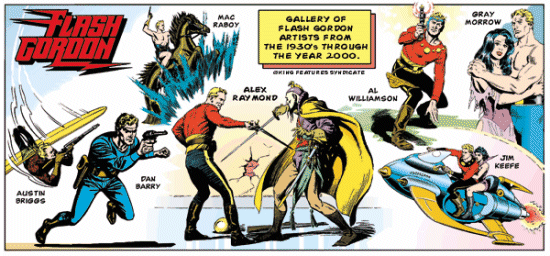 Although Raymond is most closely associated with Flash Gordon in the minds of comics aficionados, the man who devoted more of his professional life to the strip than any other was Dan Barry. In 1951, the Flash Gordon daily strip, which had been canceled in 1944, was revived, and Barry was its artist. Through a succession of writers, including Mad magazine founding editor Harvey Kurtzman and science fiction author Harry Harrison -- but mostly working with his own scripts -- Barry remained with the strip nearly four decades. When Raboy died, in 1967, Barry took over the Sunday strip as well. Dan Barry retired in 1990, triggering a succession of different artists with different styles, including Ralph Reese, Gray Morrow, and was even contracted out to a studio in Buenos Aires for a time. Three years later, the daily strip was once again canceled.

The last regular artist on the strip was Jim Keefe, from 1996-2003, who tried to revive the spirit of the Raymond strip by including features on Raymond and the strip's history and asking master artists like Al Williamson and Joe Kubert to collaborate or do guest strips. An admirer of Alex Raymond and Al Williamson, Jim Keefe dispensed with the ill-advised directions introduced into the series by Dan Barry, and returned Flash Gordon to the continuity established by Alex Raymond in 1934. Jim Keefe ended his run due to failed contract renegotiations and his last original strip ran on March 16, 2003. On March 23, the strip originally intended to run as the last strip, with art assist by Patrick McDonnell, ran as a Mutts Sunday page. Currently, Flash Gordon is in very limited circulation, consisting solely of reprints of the Keefe strips. Reaching tens of millions of readers every week at the height of its fame, Flash Gordon was one of the most popular SF properties of all time. The continued dominance of the imagery and tropes of the romantic and adventurous SF pulps in the public mind (see Star Wars) owes much to Flash Gordon.
Follow the link below to read Jim Keefe's version of Flash Gordon's original story