Blasting off on a desperate mission to save Earth from the evil plottings of the tyranical space-lord, Ming the Merciless, Dr. Hans Zarkov and Dale Arden have joined me, Flash Gordon, on a fantastic journey into worlds where peril and adventure await us!


Flash Gordon was a half hour long cartoon. It followed the stories of Flash Gordon, the matinee serial idol of old, and his friends. In the second season they became 12 minute episodes. The series premiered on September 22, 1979 and was a production by Filmation Productions in association with King Features.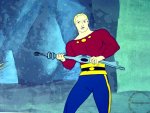 In 1979, Filmation produced its most ambitous animated series to that point, Flash Gordon (a.k.a The New Adventures of Flash Gordon). The series, like Tarzan LOTJ and other Filmation work from this period, featured depth, realism, and extensive rotoscoping. Also featured was animation over live action spaceship model shots. Filmation sold the series to NBC as a prime time feature legnth film and a saturday morning sixteen chapter serial. Faithful to artist Alex Raymond's classic comic strips, the series featured lavish, ambitious animation. Robert Ridgely, the voice of Filmation's Tarzan also voiced the lead in Flash Gordon.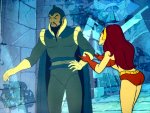 As was the case with the earlier
Tarzan Lord of the Jungle
, Flash Gordon managed to capture the decadent, romantic look and feel of the 40s adeventure newspaper strips. Bursting with exotic locales (Arboria, Vultan's Sky City, Ming's marble-columned palace) and bizarre alien life forms (Gill-men, Beast-men, Lizard-women, carnivatrees, etc) is still impressive by today's animation standards and worth seeking out. It is hands down the finest and most faithful television--or film--adaptation of Raymond's classic strip.
Voice Cast:
Flash Gordon...................... Robert Ridgely
Dale.............................. Diane Pershing
Dr. Zarkov........................ Alan Oppenheimer
Aura.............................. Melendy Britt
Ming The Merciless................ Alan Oppenheimer
Thun.............................. Allan Melvin
Vultan............................ Allan Melvin

Episode Guide
Season 1 (1979-1980; 30 minute episodes)
Season 2 (1980-1981; 12 minute episodes)
Gremlin The Dragon
Royal Wedding
Sir Gremlin
Deadly Double
The Game
The Seed
Witch Woman
Micro Menace
Flash Back
The Warrior
The Freedom Balloon
Sacrifice Of The Volcano Men
Beware Of Gifts
The Memory Bank Of Ming
The Survival Game
Gremlin's Finest Hour
Animated TV Movie (1982)